Beatrix Potter's "Hunca Munca" BP-3b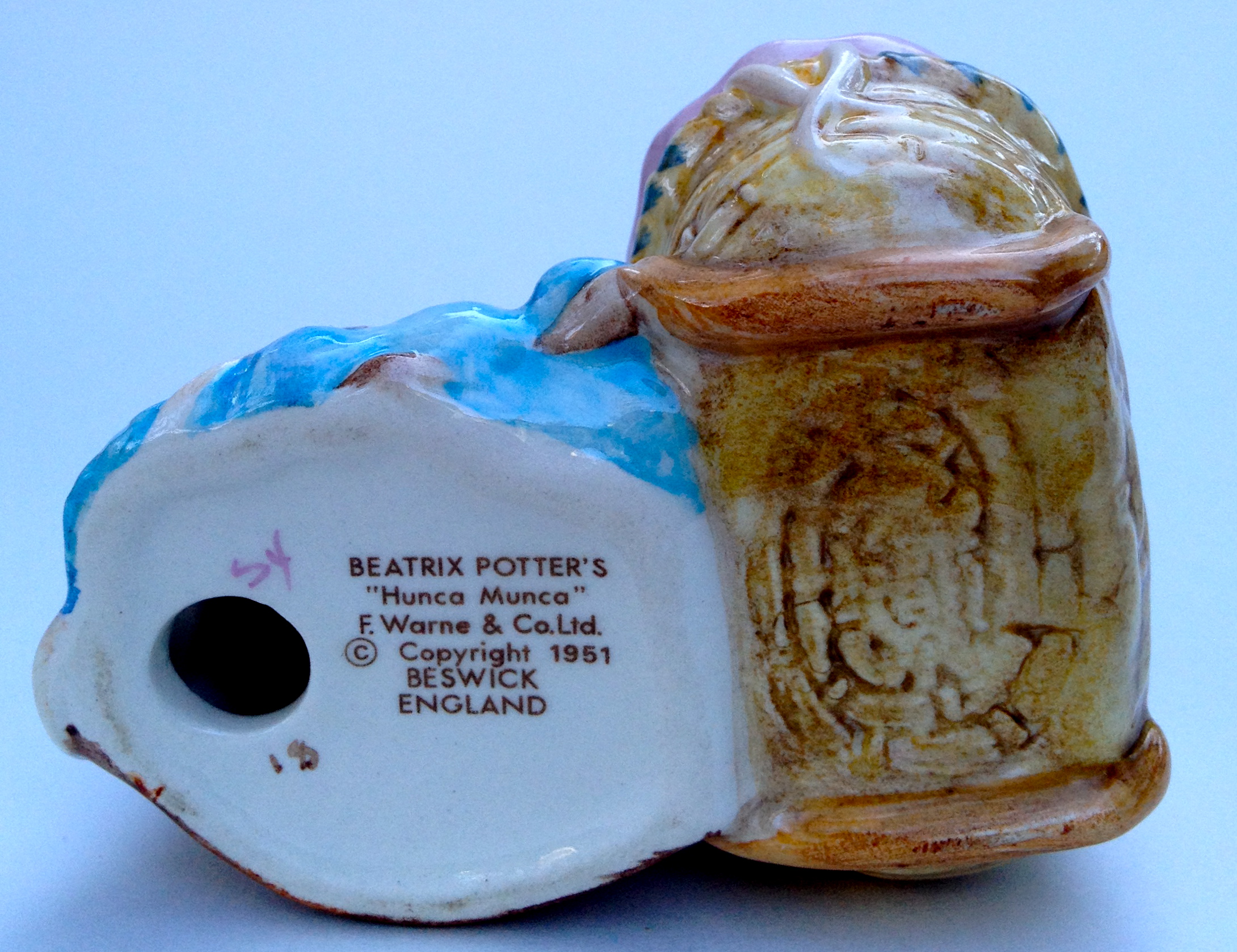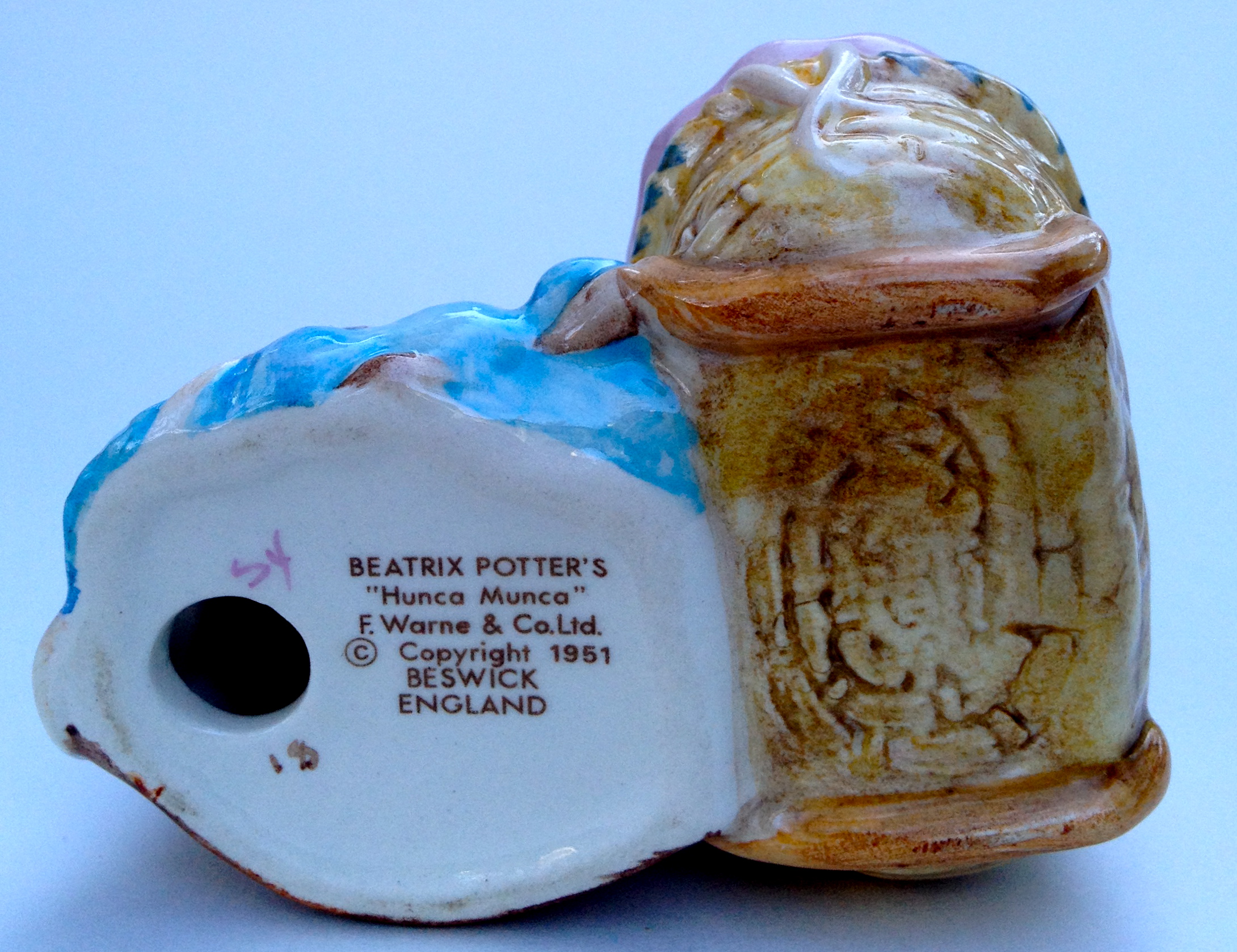 Beatrix Potter's "Hunca Munca" BP-3b
Endearing characters from over twenty-three story books written by English author Helen Beatrix Potter were charmingly recreated in fine hand-painted porcelain by F. Warne & Co. Ltd. in Beswick, England.
This figurine depicts Hunca Munca, first featured in Beatrix Potter's, "The Tale of Two Bad Mice." A vision of maternal affection and contentment, Hunca Munca cradles one lucky little baby in her arms while four others lay nestled asleep in their woven wicker cradle, tucked underneath a pink blanket. Hunca Munca, seated in a sturdy chair, wears a simple smock of Robin's Egg Blue with a white apron, blanket-stictched in pink.
Tiny little mouse tails drape out of the cradle. Mother and baby appear awake, with alert ears and open eyes.
Coveted by collectors the world over, Hunca Munca is technically known as BP-3b based on the markings found on the bottom of the figurine.
BEATRIX POTTER'S
"Hunca Munca"
F. Warne & Co. Ltd.
Copyright 1951
BESWICK
ENGLAND
Specifically, the 'S in POTTER'S, the brown lettering in straight lines, and the inclusion of a copyright date are all factors which define the BP-3b marking designation.
The copyright date of 1951 indicates the year this figurine was designed and first produced. The BP-3b version of the marking sets the actual production of this figurine between the years 1974 and 1984, making it 30 to 40 years old.
The figurine is in excellent condition, with absolutely no chips, cracks, crazing, or repairs of any kind. It is exceptionally clean and dust free.
This is the third of six Beatrix Potter figurines we will list.
Helen Beatrix Potter was born in 1866, and lived in the English countryside with her artistic parents. She had few friends beyond her large extended family, but enjoyed watching the little animals that inhabited her family's property. Often she sketched and painted, even writing imaginative stories about the animals at a young age . This innate artistic and creative gift was most famously expressed through a series of tales she wrote about a character called Peter Rabbit. In all, she wrote twenty-three such tales, including:
The Tale of Peter Rabbit (1902)
The Tale of Squirrel Nutkin (1903)
The Tailor of Gloucester (1903)
The Tale of Benjamin Bunny (1904)
The Tale of Two Bad Mice (1904)
The Tale of Mrs. Tiggy-Winkle (1905)
The Tale of the Pie and the Patty-Pan (1905)
The Tale of Mr. Jeremy Fisher (1906)
The Story of A Fierce Bad Rabbit (1906)
The Story of Miss Moppet (1906)
The Tale of Tom Kitten (1907)
The Tale of Jemima Puddle-Duck (1908)
The Tale of Samuel Whiskers or, The Roly-Poly Pudding (1908)
The Tale of the Flopsy Bunnies (1909)
The Tale of Ginger and Pickles (1909)
The Tale of Mrs. Tittlemouse (1910)
The Tale of Timmy Tiptoes (1911)
The Tale of Mr. Tod (1912)
The Tale of Pigling Bland (1913)
Appley Dapply's Nursery Rhymes (1917)
The Tale of Johnny Town-Mouse (1918)
Cecily Parsley's Nursery Rhymes (1922)
The Tale of Little Pig Robinson (1930)